WebAward 2012

The Web Marketing Association was founded in 1997 to help set a high standard for internet marketing and website development. It is the producer of the WebAward Competition, and the program, now in its 16th year, is the premier annual website award competition that recognizes the best websites in 96 industries.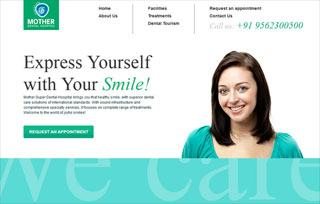 Mother Dental
Superspeciality Clinic
Technology: HTML 5, CSS3, jQuery
» visit website
Entries were judged on the following seven criteria on a scale of 0-10 points:
Design

9.5

Innovation

10.0

Content

9.5

Technology

10.0

Interactivity

9.5

Copywriting

9.5

Ease of use

9.0
Judges Comments
"Very well done. Impressive for a dental site."

"Awesome contact form! Loved the unique paging and indicators of where I am at on the page! Thought is was very helpful having the phone number on the page at all times.

Only thing that didn't seem amazing was the navigation on the top of the page.I didn't love the 3 areas of links, would have liked to see a more traditional horizontal list of items. "
» view results