Jan 7 2014
January 7, 2014 in Website Solutions Services | No Comments
Apple offers 7 basic lessons on how to prepare online content for it to be as convincing as possible in order to attract customers and get them to conduct a purchase. A task more difficult than it might initially seem. The recommendations explained below will help make your work much easier.
HOW TO TACKLE THE SCANNERS BY YOUR CONTENTS
1.        Write text for those who will only overview your content
Do you know how visitors of webpages read large blocks of text? Texts are usually only "scanned" and not read. Research shows that only around 16% of visitors actually read (word by word) and that 79% will read only individual words or sentences.
The rules of writing content for "scanners" are:
a.)        Use larger fonts for titles and highlight your ideas.
b.)        Stimulate curiosity with sub-titles before and between paragraphs.
c.)        Follow the principle of the reverse pyramid – most important information at the beginning of the paragraph and then continue with less important information.
d.)        It is crucial to present important content with bullet points.
USAGE OF SUB-HEADINGS; MAKING WAY FOR DISCUSSIONS
2.        Write text for discussion readers also
The subheadings are designed to prevent "scanning" of content and encouraging readers to read the whole content. It is important to include:
a.)        Short paragraphs (you can also use just one long sentence if necessary)
b.)        Short sentences (you can easily start them with "but", "and" or "because").
c.)        Simple words (easily understandable)
Do not forget that technical details enhance the credibility of the text. Do not be afraid to use them when describing technical aspect of products or services.
POWER OF IMAGES TO KEEP READERS AWAKE
3.        Use visual elements
Web text and visual elements complement each other. Both affect the perception of your website and may increase the desire for your products or services. It is important to note the following:
a.)        Use large spaces to give texts room to "breathe". Visitors will not feel "attacked" and it will encourage them to continue reading.
b.)        Arrange the pictures and text (left-right) so that your visitors will not fall asleep while reading.
c.)        Highlight call-to-actions in different colors.
d.)        Expose specifications with a larger font.
HOW TO MAKE THE READERS ATTRACTED AT YOUR CONTENT?
4.        Convert scanners to readers
You must convince visitors to read your content and encourage them to become active. How can we achieve this?
a.)        Use hypnotic and persuasive words such as: "you", "because", "imagine", ….
b.)        If you want to create positive opinions about your products or services it should be clearly stated why they would NOT want to buy your product or services.
For example: Apple is well aware that some of their customers' concerns are performance and battery life so they describe them in even more detail.
c.)        Write about the achievements and awards you have earned so far (with proof if possible). This increases your credibility.
d.)        Recognize and respect the level of the shopping process in which a visitor is currently in. For those who might not yet be ready to make a purchase you should offer a comparison of different products/services and let them ask you questions about them.
MAKING ALL OF YOUR PAGES AS MAIN PAGES
5.        Treat each page as an entry page
Each page should be as your "billboard". Highlight key messages and make sure visitors will read them. Use call-to-action on every page. It is important to the visitors of your website that the site offers what they are looking for and that they can find this information quickly.
Be aware that visitors usually do not come to the site through the entry page, but directly to the subpage. This happens even more often if the site is optimized for SEO.
MIND YOUR LANGUAGE
6.        Fascinate visitors with beautiful texts
It is important to be aware of the "beauty" of language. It is recommended to use poetic techniques (rhyme, repetition…) which attract visitors to further reading.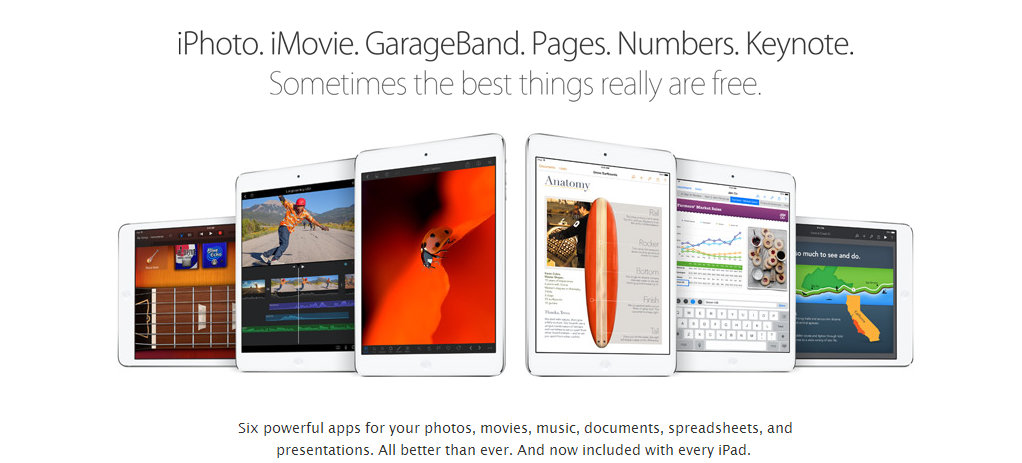 MAKING A BORE PRODUCT AMAZING!
7.        Show; don't just talk about it
Even if your services/products seem quite boring, you can introduce them in a little less boring way. How? Add pictures, graphs, videos…
Let us know your views on how to prepare online contents. Hope this content strategy from Apple helped you a lot. Make these points in your mind to keep the reader awake with developing good contents for the website. Take care of the scanners, making use of subheadings wisely, along image design optimizations. Make even the bore content attractive along with good languages.